Workshop on Medium-Term Research Priorities
for Cyber-physical Systems of Systems
CPSoS has organised the third meeting of the three CPSoS Working Groups as an
Open Workshop on the Cyber-physical Systems of Systems Roadmap
at the ARTEMIS Technology Conference 2015 in Turin, Italy
Date: October 6, 2015  –  13h30 – 18h00

The CPSoS project has prepared a Working Paper on 'Core Research and Innovation Areas in Cyber-physical Systems of Systems', outlining the challenges and key research and innovation areas in the domain of large systems that consist of physical structures and information processing elements. This Working Paper, as well as the related paper on conducted 'Analysis of the State-of-the-Art and Future Challenges in Cyber-physical Systems of Systems' have provided the basis for the current work on a 'Cyber-physical Systems of Systems Research Agenda 2015-2025'.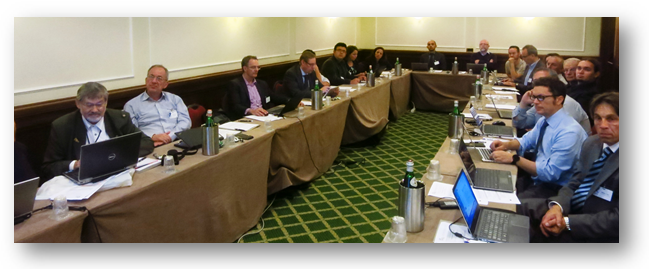 The following research and development topics, comprising several sub-topics as the main challenges for the next 5-7 years, have been defined within this research agenda:
Overarching topics:
Overcoming the modelling bottleneck
System integration and dynamic reconfiguration
Robust distributed control and optimization
Resilience in systems of systems
Humans in the loop
Towards cognitive systems
Furthermore, domain-specific topics have been proposed for the areas of:
Industrial production systems
Manufacturing systems
Transportation and logistics
The CPSoS Workshop mainly served for presentations and discussions around these medium-term research priorities. Besides, domain-specific topics for different areas have been put forward.
The CPSoS Workshop agenda as well as presentations held at the workshop are available for consultation here:
(Presentations following the order of the agenda)

Overview and CPSoS Research and Innovation Domains
(by Sebastian Engell/TUDO, Germany – Michel Reniers/TU Eindhoven, The Netherlands – Haydn Thompson/Haydn Consulting, United Kingdom)
Key Research Priorities – The AMADEOS Contribution
(by Francesco Brancati/ResilTechn SRL, Italy)
Adaptive Dynamic Systems (SoS) Holistic Safety & Security Assurance – New Approaches and Standardization Activities
(by Erwin Schoitsch/AIT Austrian Institute of Technology, Austria)
Contract-based design, model checking, and model-based safety assessment – An integrated view
(by Alessandro Cimatti/Bruno Kessler Foundation, Italy)
Research Priorities for Cyber-­Physical Systems of Systems – A Control Systems Perspective
(by Alberto Bemporad/IMT Institute for Advanced Studies Lucca, Italy)
A perspective on the Internet of Things, Services and People in the context of Sustainability and Optimization
(by Alf Isaksson/ABB, Sweden)
Power Systems as «Cyber-Physical Systems of Systems»
(by Patrick Paniciatici/RTE – Réseau de Transport d'Electricité, France)
CPSoS Medium-term Research Priorities
(by Sebastian Engell/TUDO, Germany – Radoslav Paulen/TUDO, Germany – Haydn Thompson/Haydn Consulting, United Kingdom)